Managing Pivot Charts
Last updated on November 7, 2019
---
The Pivot screen allows you to drill down data analysis as well as visualize dimensions and metrics laid out in a tree structure. The Data Selection panel can be expanded or collapsed to view charts on full-screen for better analysis. In addition, you can use the Advance Sort option to further sort data and download your pivot chart as .xlsx format.
---
on this page
---
Creating a Pivot Chart
To create a pivot chart:
On the top menu click Pivot to open the Pivot screen. A blank chart is shown by default.

Select your date criteria and data view by using the toolbar and the View list.

Click Add Dimensions to open the Dimensions dialog.

Search and select the dimension(s) you need and then click Done. The dimensions you selected are now listed in the Dimensions box.

Click Add Metrics to open the Metrics dialog.

Search and select the metric(s) you need and then click Done.

The metrics you selected are now listed in the Metrics box. Click Apply to display the data in a pivot chart.

The pivot chart appears below.

To save your pivot chart, click Save on the toolbar.

The Save Chart dialog appears. Type the name of your chart and then click Save.

To retrieve your saved charts, click Add Charts from the left menu to open the Charts dialog.

---
Sorting Data in Pivot Tables
Table data can be sorted in different ways. For example, you can sort data by using a specific column as the reference. To do so, hover over the desired column header and then click the Toggle Sort button to sort the data ascending or descending.

In addition, you can sort data using multiple dimension by metric combinations. To do so, click [Advance Sort** top open the dialog, choose the sort combination that you need, and then click Done. The Sorted By field shows the sorting criteria you selected.

---
Data Selection Options
Data Selection options can be used once your chart is displayed. The options are:
Expand/collapse table
Pivot transpose
Download data

---
Expand or collapse chart
To expand or collapse your pivot chart, toggle the Expand/Collapse Table button. When expanded, some of the fields (Dimensions, Metrics, and Sort By) are hidden to expand the chart.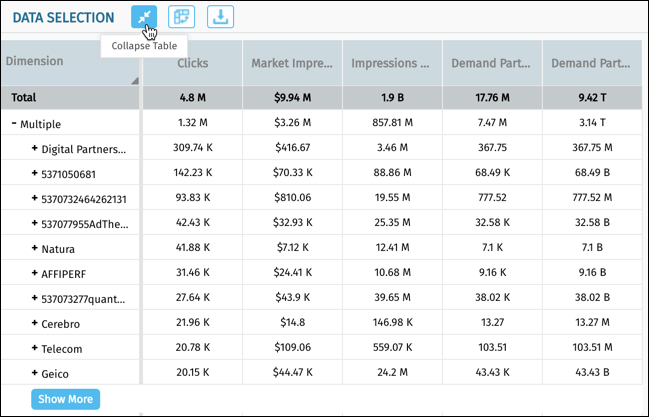 ---
Pivot transpose
To flip data on the table to see metric trends across days or even hours to do comparative analysis, click Pivot Transpose. This option is only available when you choose Day/Hour as a dimension.

---
Download data
To download the chart's data as a .xlsx file, click Download Data.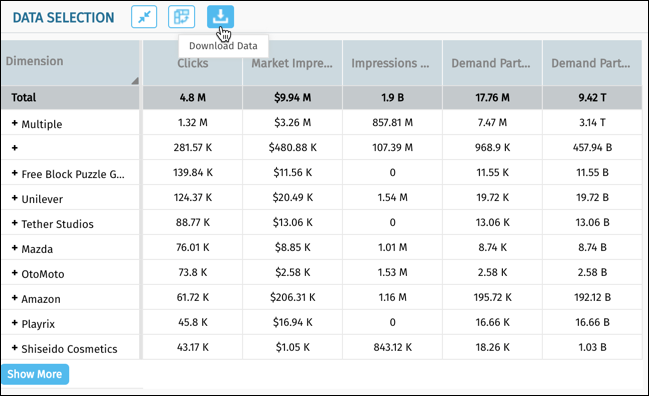 NOTE

The Download Data button is inactive if the chart is Pivot Transposed.