Managing Deals
---
Managing a deal consists of several tasks you can perform on a deal. This includes changing the status of a deal, editing a deal, cloning it, troubleshooting a deal, and more.
---
Deals List Screen
All existing deals can be viewed and easily managed from the Deals List screen, where you can perform the tasks described below.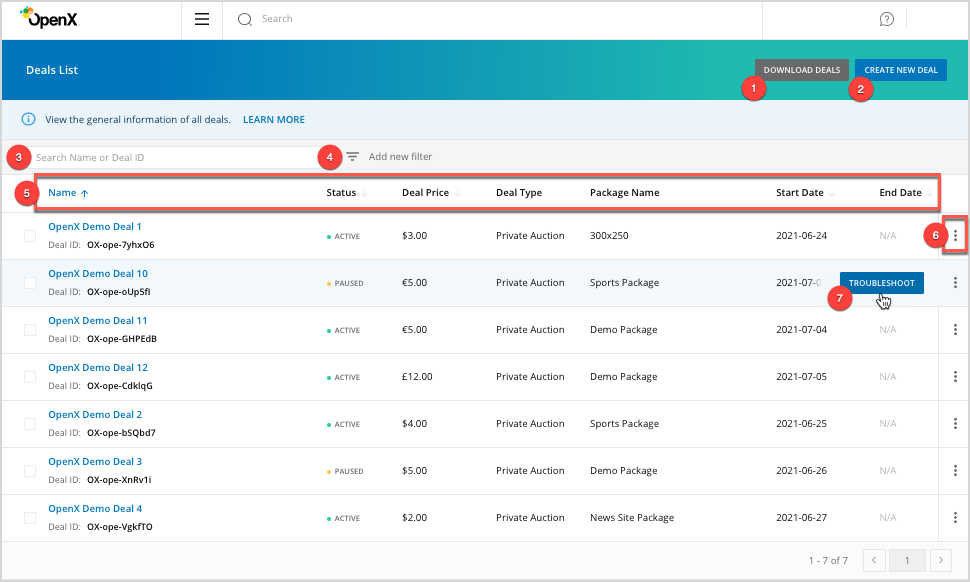 Task
Description
Download Deals
Download a spreadsheet of all available deals in .csv format.
Create New Deal
Create a new deal.
Search Bar
Search deals by their name and/or ID.
Filter List
Filter deals by status, deal type, or package name (for example, to see if a specific package is used in any deals).
Data Columns
View the name, ID, status, deal price, deal type, package name, start date and end date (optional) for every deal.
In addition, you can sort the deals list by clicking the corresponding column headings.

Note: Clicking on a deal's name takes you into the Deal Details screen.
Actions List
Open a deal's actions list to perform any of the following:



• Details: Access the Deal Details screen. You can also achieve the same by clicking on the deal's name.
• Resume: Resume a deal that is currently in a Paused status.
• Pause: Pause a deal that is currently in an Active status.
• Clone: Create a copy (clone) of the deal.
• Edit: Edit a deal.
• Delete: Delete a deal you no longer need.

Note: You cannot recreate a deal with the same ID. An advertiser may have targeted that ID and may want to reuse it.
If you are uncertain whether you will need a deal ID in the future, you can pause it or give it an end date.
Troubleshoot
Troubleshoot a deal. This allows you to visualize the deal's activity for the last 4 hours.

Note: The Troubleshoot button appears when hovering your cursor over a deal's row.
---
Applying an Action to Multiple Deals
Some of the actions can be applied to multiple deals. These actions are Resume, Pause, Clone, and Delete. To achieve so, check the boxes of the deals you desire on the Deals List, and then click on the corresponding action button located on top of the page.